They Did it!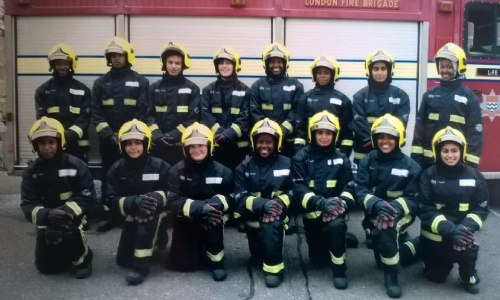 Whilst others were lying in during the half term break, these fifteen year 10 students were up early each morning completing the London Fire Brigade LIFE course at Wembley Fire station.
The students worked alongside firefighters to learn how to use fire equipment and received fire safety input. Every young person put in a tremendous amount effort in all activities. Despite some young people having fears of ladders and rescuing casualties in the dark, all students carried out every activity with positivity.
The course required every group member to work as a team, communicate and be a leader, which even the quieter students were able to achieve. All of the staff at London Fire Brigade were hugely impressed with the enthusiasm of the students, their positive attitude, behaviour and ability to adapt to a challenging and new environment. Course Leader, Jack Swannell, stated with great sincerity that 'this was the best group that they had ever worked with.' A big thank you to our Alumni Association who donated just over £1,000 and to the residents of Birchwood Grange Care Home in helping students meet the cost of the completing the course. They could not have done this without you. Well done to our students on completing this challenging course!