Careers support for parents (CEIAG)
What is Careers Education, Information Advice and Guidance?
Careers Education, Information Advice and Guidance (CEIAG) makes a major contribution to preparing young people for the opportunities, responsibilities and experiences of life in order to help them make a successful transition to adulthood. Preston Manor School aims to achieve this rationale through the following objectives:
• supporting young people to achieve their full potential
• empowering young people to plan and manage their own futures
• enabling young people to develop employability skills
• providing comprehensive information on all transition options
• raising aspirations
• promoting equality, diversity, social mobility and challenging stereotypes
• meeting statutory duties to ensure that there is an opportunity for a range of education and training providers to access all pupils in years 8 to year 13 for the purpose of informing them about approved technical education qualifications or apprenticeships. (See Preston Manor School: Provider Access Policy)
At Preston Manor, all students have the right to access free and impartial careers information advice and guidance and also have the opportunity to gain experience of the world of work.
Our careers programme is delivered through Careers related PSHE lessons, career events and programmes as part of their Personal Development Well-being curriculum throughout their time at Preston Manor.
There is an individual careers focus for each year group that is built into our careers programme: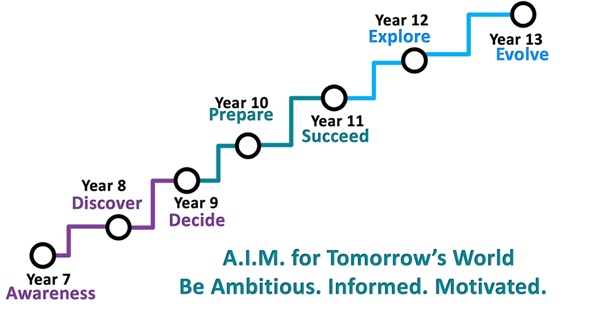 The CEIAG programme provided at Preston Manor uses *The Gatsby Benchmarks, a framework set out for schools to deliver 'good career guidance'. To further enhance our provision, we use the Careers Development Institute (CDI) Framework to support the delivery of our careers programme and we also have an Independent Careers advisor who carries out individual guidance interviews with our students.
We welcome employers, training providers, colleges and Universities into our school for assemblies, careers events/talks and training activities, if you are interested in supporting in any way please contact our Careers Lead, Ms Nyakeru whose contact information are below.
Email: info@preston-manor.com
Telephone Number: 0208 385 4040
https://www.lmiforall.org.uk/cm2/