House of Maths Workshop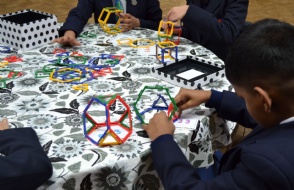 On Thursday 24 February, Upper School students enjoyed the House of Maths workshop run by Barney. The workshops are designed to promote numeracy skills and mathematical curiosity, concentrating on hands-on and real-world maths that students can really relate to.
Students had a chance to experience hands-on activities on 3D shapes and the interesting patterns that emerge from them, as well as learning about Archimedes' design for the modern day football and the reasons behind the tessellated shapes of the polygons of which the leather is made out of in an action packed live show!
This event was funded by the Jack Petchey Leader Award grant won my Ms Hakim.