Sixth Form
For students wishing to apply for a place in Year 12 September 2020 - details to follow. Our Sixth Form Open Evening will be on Tuesday 12 November 6.00 to 8.00pm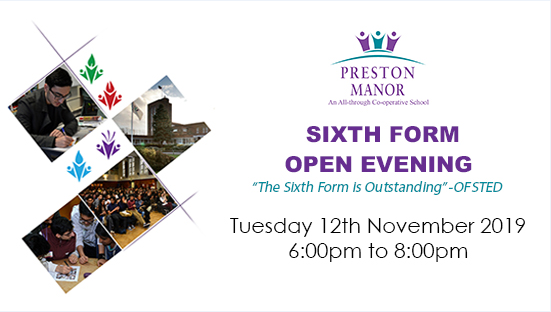 Preston Manor Sixth Form has a long running tradition of being one of the best performing school Sixth Forms in the UK; for over a decade, we have consistently ranked in the top 10% of Sixth Forms nationally for our Value Added (VA) during a three year aggregate period. In addition to our outstanding results, the Sixth Form has been deemed 'Outstanding' in our last two Ofsted inspections:
Excellent teaching
'The quality of teaching and learning is outstanding... Students report that "teachers are excellent!" Students' attitudes to work are very good and often exceptional.'
Excellent student support
'Students' contribution to the school and other schools is extensive through mentoring programmes. They are highly motivated and develop good independent learning and critical thinking skills that prepare them well for higher education and progression to employment.'
Excellent student progression and Higher Education opportunities
'Opportunities for enrichment are excellent and large proportions of students participate in these and fund-raising activities.'
Excellent leadership and management
'Leadership and management of the sixth form are excellent.'
The Sixth Form has a highly skilled, supportive and dedicated team of two Directors of VI Form and 15 Academic Tutors. Our expertise and effective team work mean that we are able to meet the needs of our diverse Sixth Form students.
Preston Manor School is proud of the achievements of its Sixth Form and is committed to all learners achieving their full potential, and discovering and realising their aspirations in this world.