Lower School celebrates World Book Day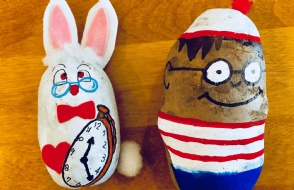 Preston Manor Lower School celebrated World Book Day on Thursday 3 March.
Children celebrated this day by turning a humble potato into their favourite literary character and writing book reviews to describe their favourite books.
Every class decorated their classroom door to represent a favourite story. Prizes were awarded for the most creative potato character, best looking door and most creative book review. We had some very impressive entries and children have enjoyed seeing each other's creative flair. We were so amazed at the creativity and imagination of our children.
On the day, staff and children dressed up as a character from a story, and everyone had lots of fun guessing who each person was!
Preston Manor Lower School was officially opened in June 2012, so we are celebrating our 10th anniversary this year. We tied in the 10-year anniversary as part of the World Book Day activities where children were asked to create and share stories, art, poems and songs about Preston Manor Lower School all of which were shared in special World Book Day assemblies.
Thank you to all the parents who supported their children in making World Book Day celebrations a success. It has been wonderful celebrating books in this special way!
There are no items in this Photo Album