Year 12 students take on work experience with US Law firm, Paul Hastings and Global Asset Management firm, PGIM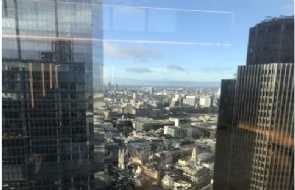 Over October half-term, Year 12 students Munajjina, Safa and Ziham had four days of work experience in Central London with the US Law firm, Paul Hastings and global asset management firm, PGIM.
"This experience really helped me get a better insight into what lawyers do, and made clear the different paths I could take if I decide to go into law'" commented Munajjina. "We were also able to speak to people with a range of other jobs in the finance sector, which was very beneficial because it showed me whole new careers that I had never heard about, such as ESG"
Safa especially enjoyed visiting the Royal Courts of Justice where they all watched a public civil litigation case of an Afghan refugee. While shadowing a lawyer in the Funds team, she helped write out an indenture agreement for Deutsche Bank. "I came out of the experience feeling much more confident about my future career prospects" she said.
Ziham spent time with the business development team at Paul Hastings and found out how they prepare pitches. While at PGIM she enjoyed learning about bonds and ESG. She was interested to see how more Law firms are now learning to be conscious about environmental social governance. 'I found this experience enlightening' commented Ziham, "It has further enhanced my goal of either going into Litigation Law or Corporate Law."