The Holocaust Educational Trust live testimony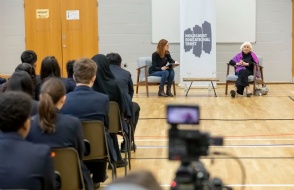 On Thursday 26 January, our Year 9 students and thousands of students from across the country heard the remarkable live testimony of Holocaust survivor Ruth Posner BEM to mark Holocaust Memorial Day. The event was hosted from our Upper School. There was also a live Q&A by questions tweeted with the hashtag #AskRuth
"Has your perspective of the Holocaust changes as you've got older?"
"What I think has changed for the better, is this, it is you. That fact that you are here, you want to know, that you are studying, that you are inquisitive." Ruth Posner BEM
"Some people were able to help and some people risked their lives to help. Now in my old age, I feel it is important to know about that, that no matter what evil exists - and there is evil - there is also the other side." Ruth Posner BEM
It was a pleasure to meet Ruth Posner BEM and for our Year 9 students and all those who joined the webcast to hear her remarkable story.