Brent SEND celebrations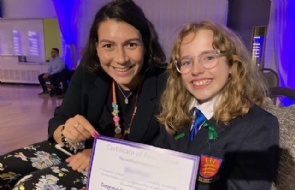 Preston Manor was invited to the Brent SEND celebration event on Thursday 29 June with one of our students Alice P (Year 7) who was nominated for an award. Ms Hannah Johnson (Manager of Compass Autism Provision) also attended.
The event was organised by Brent and hosted by Nigel Chapman (Director for Children and Young People at Brent Council) and Tariq Dar (Deputy Mayor). It was an amazing event and Alice won a certificate of recognition for 'being an amazing Neurodiversity ambassador showing kindness and raising/promoting acceptance across the school community'.
The event celebrated the amazing SEND young people within Brent and we were treated to music from the Manor School Choir and Indian Drumming from a student from Woodfield.
We are incredibly proud of Alice!