Year 12 - Post 18 Options and UCAS Day and Alumni event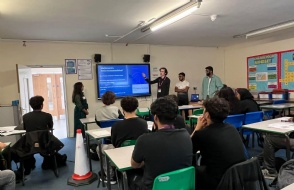 On July 6th, all Year 12 were off timetable for the day to focus on preparing for their post-18 applications.
The day was dedicated to getting our KS5 students ready to make the best possible post-18 choices, how to do effective research and how to put in an excellent application that will be considered favourably for even the most competitive courses and universities.
We are proud that our students are aspirational; they have committed to their KS5 courses and Enrichment in Year 12 and now this is the start of the next phase in their education where we are confident that they will excel!
In the afternoon session, we ran special interest workshops to help our students gain a better understanding of career routes and opportunities. These included presentations by university graduates - including from Oxford, Cambridge, QMUL, UCL, Imperial, and LSE. Some are now working in computer science in the fintec industry, in the financial services industry, in Law, the civil service and engineering; there were top research scientists, working in groundbreaking fields of neuroscience and MRI imaging. Students also had a chance to talk to current undergraduates in a range of subject areas including Medicine, Economics, Communications & Media and Politics and English …..and most impressive of all, ALL the contributors were our alumni students, showcasing their talents and achievements. These excellent role models to our VI Formers demonstrated that success can look just like them!