'We wish you a jazzy Christmas' Performance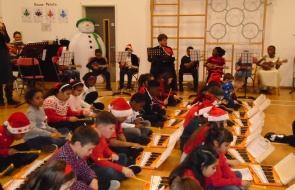 Tuesday evening saw the culmination of the weeks of rehearsing for A Jazzy Christmas.
Mr. Crawley conducted the band and our talented Year 4s in singing and playing their glockenspiels. The hall was packed with parents who came to support their children. It was an amazing evening showcasing what the children had learned.
Thank you to all the year 4 staff for supporting their children through rehearsals and on the evening itself. Encore !!