The Mystery of Mars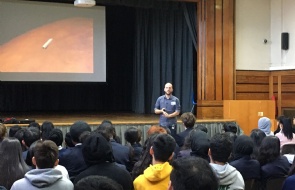 On Wednesday 11th December 2019 we held our first in a series of university style lectures. The yr11 separate science and A'level science students were treated to a one-hour presentation by the renowned Astronomy author, writer and speaker, Colin Stuart. enter an introduction for your news story here.
Colin Stuart has written 16 books on Astronomy which have sold more than 300,000 copies worldwide and have been translated into 19 languages. He has also written over 200 science articles that have featured in publications that include the Guardian, New Scientist, the Wall Street Journal and the European Space Agency. He has been a guest on Sky News, BBC news, Radio5Live and has also been quoted in many National newspapers. In recognition for his efforts to popularise astronomy, Asteroid 15347 has even been named after him.
During the lecture, he mentioned how colonising Mars was soon going to be a reality and the fact that the first Astronaut to land on Mars is of school going age.
The students listened intently and had many engaging questions answered. Some were even keen on knowing which subjects they needed to study in order to become an astronaut in the future. Who knows but maybe the first person to walk on Mars will an ex-student of Preston Manor! enter some content for your news story here.