Year 12 prepare for Post 18 Option Programme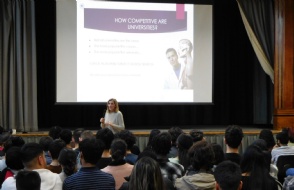 Since joining VI Form, our Year 12 students have been working hard to balance their academic work with our VI Form Enrichment programme. This is designed to help them create a unique, personalised profile that will make them stand out in their applications for university, degree apprenticeship or school leavers' schemes. This is what has secured previous students places at top universities including Oxford, Cambridge, Imperial, UCL, LSE and many more in previous years.
Last week, we started the Year 12 Preparation for Post 18 Options programme, ensuring all students understand how to apply to university and how universities select students. By the Summer, students will be ready to start their UCAS applications on our dedicated Post 18 Options Day in July.
Our Year 12 students are also looking forward to visiting the UCAS Discovery Exhibition on March 15. There will also be a bespoke Dyson Robotics Engineering workshop for our future Engineers and a trip to Oxford university for selected students.
There will be plenty more opportunities for our students to access university Taster Days, virtual work experience and Insight Days!