Preston Manor's Mentoring Department presents "The Bully" - a short film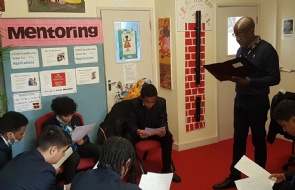 Mentoring is a popular intervention at Preston Manor School that is used to support individual students to maximise their potential. The Mentoring Department at Preston Manor aims to build confidence and relationships, to develop resilience and character, or raise aspirations, rather than to develop specific academic skills or knowledge.
This week, we welcomed back Hepburn Harrison-Graham to run a very special drama therapy project called 'The Bully'. This project will run in conjunction with the Year 7, Year 8 & Year 9 S.T.A.R.S. (Successful, Talented, Aspiring, Responsible, Students) mentoring program run by Mr. Carboo, Lead Learning Mentor.
The aim of the project is to highlight some of the issues surrounding prejudice that young people face today whilst exploring all sides of the personal stories of the characters and examines what is behind the actions of the victim and perpetrator.
The project will allow students to experiment with eye contact, body language, tone of voice and get immediate feedback about how others perceive them. It also gives students practice with reading, concentration, memory, discipline and building positive relationships, all of which is very important for developing social skills.
The short film of this drama project will be available to watch at the end of the spring term...watch this space!