Year 9 explore their options!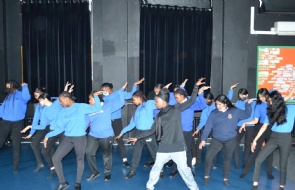 Year 9 students had taster lessons for GCSE Music, GCSE Drama and BTEC Performing Arts: Dance.
The Faculty of Performing Arts holds it's annual Year 9 Options Carousel which offers special lessons, masterclasses and an educational experience outside the usual curriculum to help students in Year 9 decide which subject to take in Year 10 and 11.
Mr Crawley, Ms Sytch and Ms Robinson taught a lesson each to give the students a chance to work together with new people from across the year group and to explore their creativity.