Sixth Form Welcome Microsoft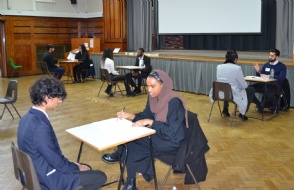 On Tuesday 8 February, Preston Manor Sixth Form welcomed Microsoft for a Future Leaders Workshop to help students focus on leadership, communication and presentation, all vital skills needed for interviews.
The aim of the 'Microsoft Future Leaders' Programme is to:
Give students a realistic picture of the business world and make them aware of the range and extent of business activities and opportunities available
Develop leadership characteristics and skills
Provide students with opportunities to engage and interact with Microsoft and its stakeholders
Hanifa Begum, Enterprise Security Specialist for Financial Services at Microsoft praised the students for their professionalism. "We were blown away by the outstanding talent and thought leadership displayed today by the students. To discuss topics like sustainability in technology, diversity and social responsibility with them and to hear their innovative and thought-provoking views was truly inspiring for us all. #future leaders!"
It was a pleasure to have Hanifa Begum and her colleagues engage and inspire our students. We look forward to visiting the Microsoft offices in Paddington for the next phase of our Future Leaders Programme.