Music Academy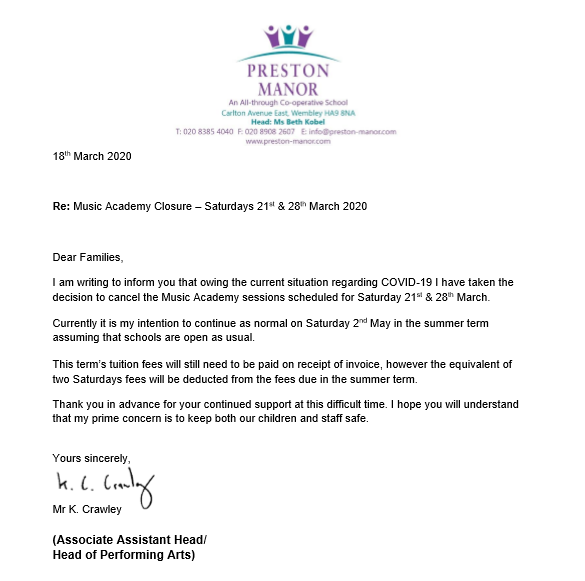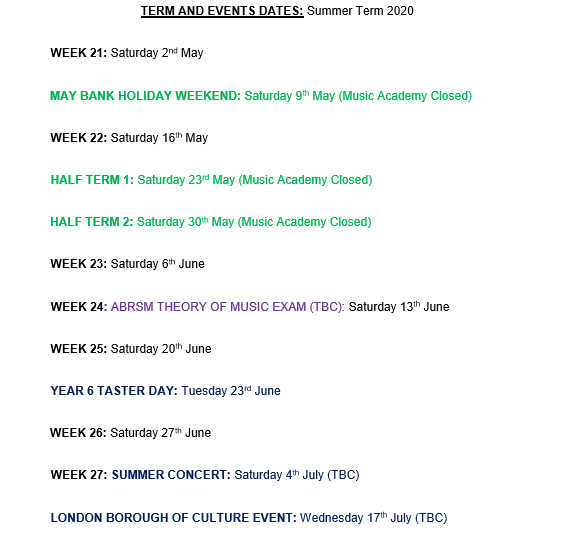 The Preston Manor Music Academy is a Saturday morning community music school based at Preston Manor School; it caters for children aged between 6 and 18 and is currently attended by 150 students.
The Music Academy not only offers its pupils the chance to learn an instrument but also the opportunity to play in an orchestra or other ensembles, sing in a choir and learn the theory of music. The study of music theory enables children to gain a greater appreciation of the pieces they may be learning in their instrumental lessons and a more thorough understanding of classroom based music activities through all the Key Stages. The Music Academy has had a number of recent successes in both practical (including Grade 8) and theoretical music examinations with candidates achieving marks ranging from 77% to 100%.
Pupils attending the Music Academy may choose to learn the piano, keyboard, dhol, harmonium, tabla, drum kit, classical or electric guitar, saxophone, clarinet, flute, violin and voice. These are all taught in small groups of between 3 and 4 students.
Staff and Roles
Name

Role

Name

Role

Mr K. Crawley

Head of Performing Arts

General Musicianship, Music Theory & Orchestra

Miss M. Saka

Keyboard, Piano & Music Theory

Mr T. Jones

Keyboard, Piano & Music Theory

Mr J. O'Donnell

Saxophone, Clarinet

& Flute

Mr C. Williams

Saxophone, Keyboard, Piano, Music Theory, Music Production,

i/c 'The New Ensemble'

Mr W. Alexander

Classical, Electric Guitar, Junior Ukulele Ensemble & Guitar Ensemble

Mr L. Cirkel

Drum Kit and Percussion

Miss D. Hallstead

Violin, Viola & Junior Strings

Mr S. Maclasaac

Keyboard, Piano, Music Theory & General Musicianship

Mr J. Edwards

Voice, Junior & Senior Choirs

Mr J. McGovern

Keyboard, Piano, Music Theory & General Musicianship

Mr S. Sharma

Year 7 – 13 Student Supervisor

Mr J. Sehra

Tabla, Harmonium, Dhol,

i/c Dhol Ensemble

Mrs M. Hansraj

Year 2 – 6 (Junior Music Academy) Student Supervisor
The Academy orchestra, the music school's flagship ensemble, plays regularly in high profile school events and has collaborated in compositions and performances with The English Naional Opera, The UCL Institute of Education and Community Jazz Band Old School Assembly.
In 2000, the Preston Manor Junior Music Academy was formed for pupils attending local primary schools. Like its older counterpart, the Junior Music Academy offers the chance for 6 – 11 year olds to sing in a choir, play in a group, learn an instrument and study music theory. We currently have 40 juniors on roll who attend a range of local primary schools including Preston Manor's own Lower School. There is currently a two year waiting list for this part of the provision.
Every year the Music Academy puts on a Spring and Summer concert in which pupils play a wide range of instruments both solo and in groups. The junior musicians contribute with choir and small ensemble performances.
The Music Academy is staffed by a team of 12 professional musicians that are not only teachers but are also working in the music industry. The team is led by Keir C. Crawley who has composed for the BBC, Channel Four, orchestrated and arranged for both Sony International and EMI and has lectured at post graduate level on arranging and composing music for young performers. The team also includes musicians who run their own recording studios, music production companies, sing and play in professional choruses, orchestras and chamber ensembles.
Please see attachments below for an application or further information on this special programme. Videos featuring the talent work of the Music Academy are also provided below.