Learning continues over the Easter Break!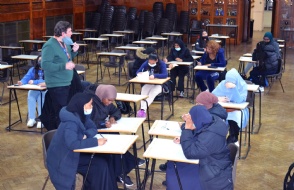 Whilst the school may be closed for students for the Easter holidays, our Upper School is open and is holding extra classes for few of our subjects for some of our students!
With A-levels and GCSE's just round the corner, our Year 11 RE students have been hard at work this morning in the run-up to their exams. Dedicated students giving up their time on the first day of the Easter holidays.
The hard work continues this afternoon with A Level RE students. Students have been practicing essay plans and focusing on evaluation and analysis. Thank you, Mr Pratchett for coming into school to support our students with their learning!