Year 12 Activities Day 2022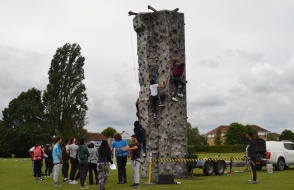 After having worked hard for their end of year UCAS exams, all of our Year 12 were treated to a full day off timetable to take part in Activities Day on Thursday 9 June. The day was run by NCS QPR who arranged 6 very different workshops and outdoor challenges.
The 3 outdoor activities got out Year 12 moving! The climbing wall challenged everyone! The Team Building skills gave the students a chance to work out some complicated physical puzzles and got them, literally, tied up in knots! Finally, Tag Archery taught the students a new combat sport that gave them a chance to let off a lot of steam - and to shoot a few of their teachers!
The day also included 3 excellent indoor workshops. All of our students have now had some basic training in emergency medicine and CPR, a vital skill that could potentially save lives. They have been introduced to the importance of money management, how to budget and plan ahead financially. They have also gained some essential employability skills, preparing them for the world of work.
Thank you to all the staff from NCS QPR and the school for making this day possible!
Now refreshed and rebooted, Year 12 are ready to embark on the final stage of their school career. On July 7th we have our annual Post-18 Options and UCAS Day when they will start preparing for life beyond Preston Manor.