Year 12 Enrichment: Introduction to International Relations Theory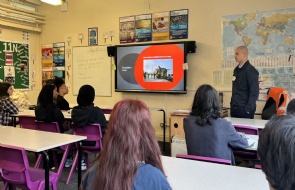 In June, we were delighted to welcome back our ex-student, Ben Soodavar, who left Preston Manor VI Form in 2013.
Nine years and 3 university degrees later, Ben has just completed his PhD and is now working at King's College, London, lecturing in War Studies.

Taking a break from lecturing at KCL to deliver an excellent taster lecture in International Relations Theory and the causes of the current war in Ukraine, Ben showed our Year 12 just how far they could go in the next few years. He also gave our students a great insight into student life and what it's like studying at KCL.

Ms Barry's enthusiastic A level Politics students were well able to contribute their ideas, develop their understanding of IR theories and ask incisive questions.
Aspiring IR student, Lamar, commented: 'Ben's Session was very helpful in giving me a better understanding of what an International Relations course involves and how it links to my A Level in Politics - reassuring me that I'm picking the right course!'
Ben will be moving on from KCL later this year to take up a key research role with the Ministry of Defence. We wish him all the best and hope to welcome him back in the future.