GCSE results celebrated at Preston Manor!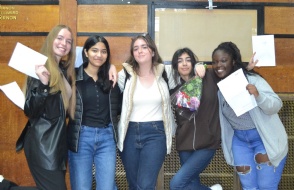 Even the weather could not dampen the excitement and celebration as Preston Manor School students received their GCSE results, which continued the school's upward trend since the last time examinations were held in 2019.
There were many individual success stories with many students achieving the highest grades across all of their subjects.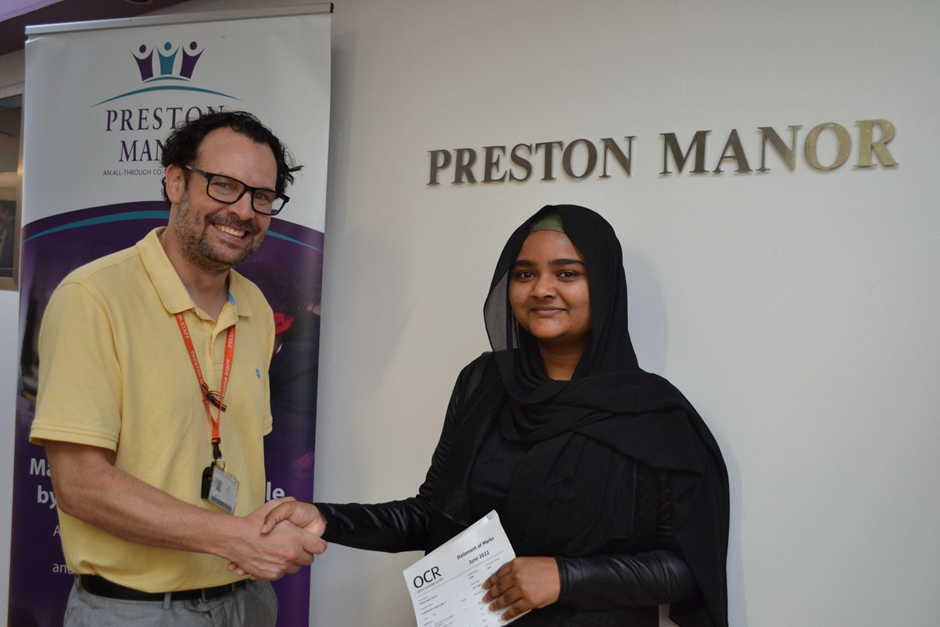 Munajjina Chowdhury achieved nine grade 9s and one grade 8. Pictured with Mr. Micheal Callan (Director of Student Development)
Fellow student Chris Mutombo Ramazani received nine grade 9s and two grade 8s, which enables him to secure a scholarship to the world prestigious Harrow School. He said, "I am on cloud 9, despite the challenging few weeks of exams, I tried my hardest and I got a lot out of the hard work."
Chris Mutombo Ramazani pictured with Mr. Stuart Taylor (Head of Upper School)
Stuart Taylor, Head of Upper School was delighted: "I am so proud of our young people. They worked incredibly hard and deserve these fantastic results. They have had to overcome challenges from Covid but have come through it with flying colours."
May Lat, who celebrated one grade 9, four grade 8s, three grade 7s, one grade 6 and one grade 5, expressed her thanks to school staff, "I am so thankful to all the teachers that have supported me. I am so overwhelmed and grateful."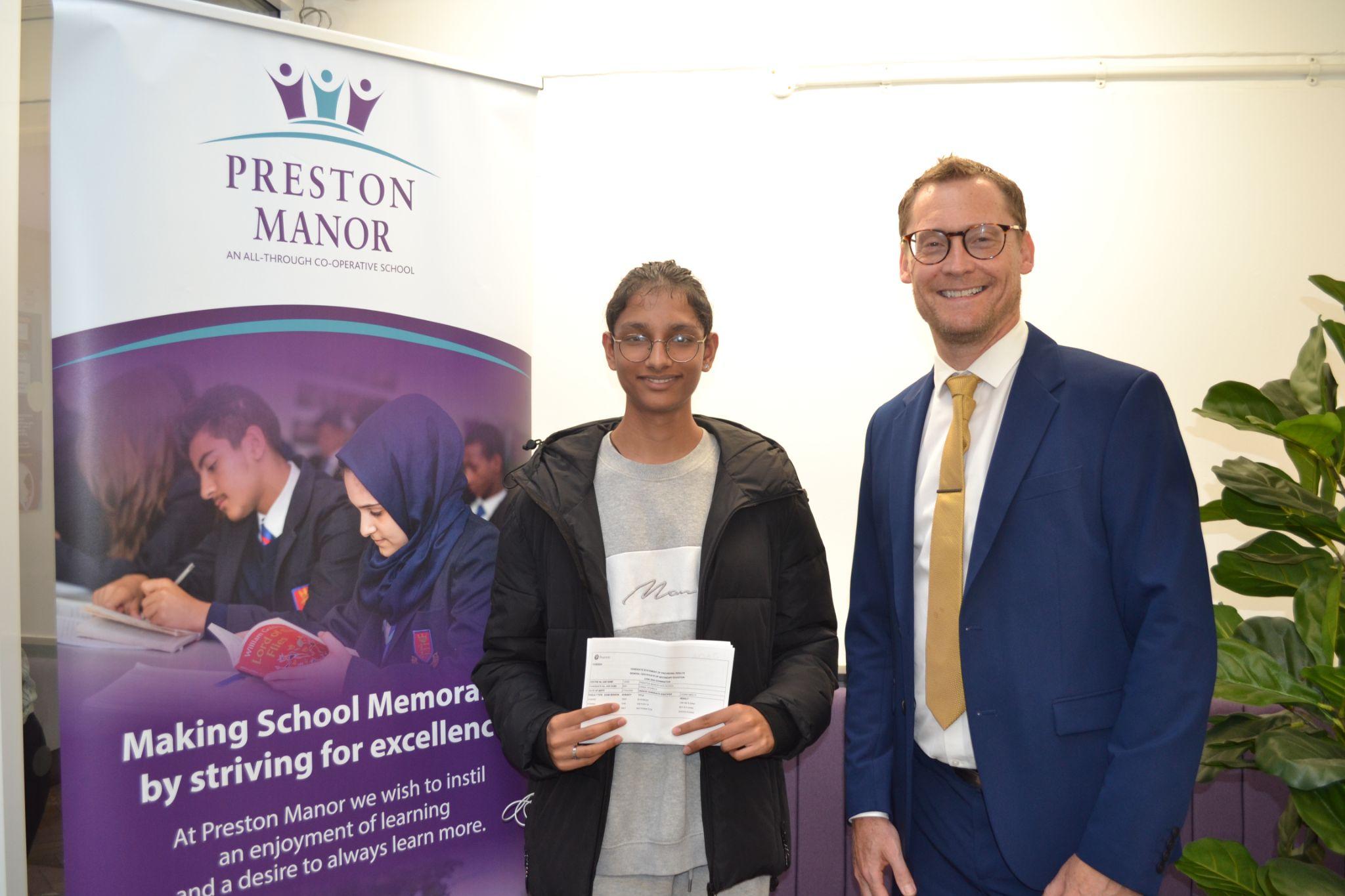 Ayush Cangi (10 Grade 9-8's including seven 9's, and three 8's) pictured with Mr. Stuart Taylor (Head of Upper School)
The Director of Student Development for Year 11, Michael Callan, was ecstatic: "This success speaks of students' resilience, perseverance and positive attitude throughout their time with us. I know they will go on to greater things."
Celebrating below are friends (left to right) Keya Patel (10 Grade 9-7's including two 9's, three 8's, four 7's), Alexandra Bicher (10 Grade 9-7's including three 9's, three 8's, fours 7's) and Iulia Mihailov (10 Grade 9-7's including four 9's, four 8's, two 7's) and Megan Finn (10 Grade 9-6's including three 9's, six 8's, one 6.) with Executive Headteacher Mr Russell Denial.
Executive Headteacher, Russell Denial stated that "results are testament to the ambition and excellence of the students and the support, belief and guidance of the school staff and the students' families."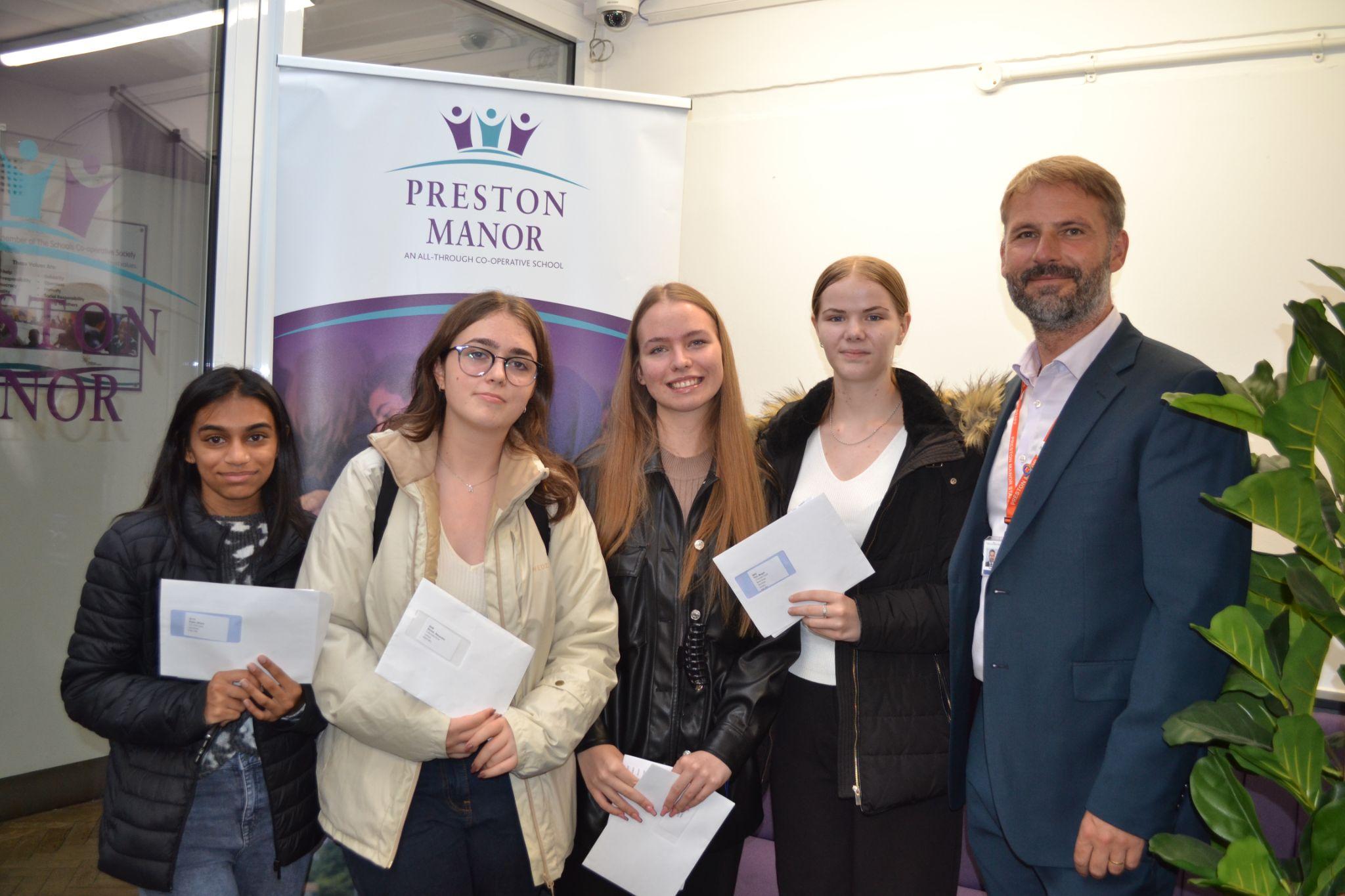 (left to right) Keya Patel, Alexandra Bicher, Iulia Mihailov, Megan Finn with Mr Russell Denial (Executive Headteacher)