Accessing the Corporate World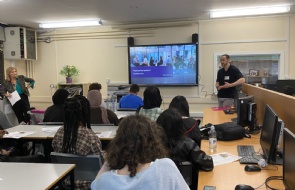 Our Year 12 students with a particular interest in careers in Finance and Investment banking are taking up the opportunity to join the ' Berenberg Journey' . This is an exciting programme run by Berenberg, one Europe's leading privately owned banks, in association with youth employment experts, Visionpath. Students will be given 1-1 mentoring with a professional from Berenberg, attend tailor made workshops and experiences and learn all about the different steps in Investment Banking from research to presenting on stock recommendations.
The 'Berenberg Journey' will take students from Year 12 all the way through to making successful applications to leading universities or securing places on top degree apprenticeship schemes.