Insight into Barclays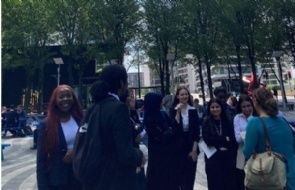 As part of the Making the Leap Pathways to Success programme, a group of our Year 12 students gained a great insight into careers at Barclays, Head Office in Canary Wharf.
Students heard from Customer Care Leaders, took part in a Barclays Life Skills session, and
had a chance to network with employees and apprentices at Barclays who shared their professional journeys.

"I enjoyed being able to personally ask questions to a Barclays apprentice and the advice he gave me on the application process and the certain qualities that organisations look for. I learned that there are more options for me beyond university" one of our students commented. She went on to say "I really liked learning about the different types of transferable skills that can be achieved through different work, and, of course, the idea that you have to work hard to achieve what you want"