Ex student awarded the British Empire Medal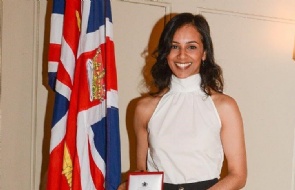 Congratulations to our ex student Reena Gudka who has been awarded the British Empire Medal as part of the New Year's Honours List for services to Civil Servants impacted by eating disorders.
Reena was an outstanding student who left Preston Manor VI Form in 2011. She has returned to our VI Form on numerous occasions over the last 12 years to share her experiences with our VI Form students. An inspiring role model, Reena completed her first degree in Economic History at LSE, went on to work at an Investment bank but then chose to return to her studies at the LSE and completed an MSc in Political Economy of Development. Her subsequent role at the Department for Levelling Up, Housing and Communities gave her the chance to work on local development in London and South East England. She now works on Financial Inclusion at HM Treasury.
Reena's British Empire medal was awarded as a result of her innovative work on eating disorders within the workplace. She co-founded the first Civil Service Eating Disorders Network in 2021 to support civil servants affected directly and indirectly by eating disorders, disordered eating, and negative body image. The network provides monthly peer support sessions, 1-2-1 conversations, awareness raising events, and guides on what eating disorders are, how to get support and how to make the workplace more inclusive. Initially focussed on one department, the network now supports Civil Servants across 38 Government departments, agencies and public bodies.

We are very proud to count Reena as one of our Alumni and look forward to welcoming her back into VI Form on July 6th when, along with a number of other alumni students, she will be talking to our Year 12s.