Year 13 Work experience Programme with Paul Hastings and PGIM Global Investments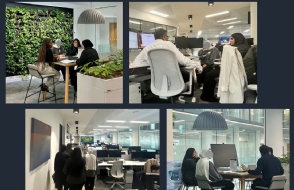 Over the October half-term, Year 13 students, Malak, Huda and Amaani, spent four days at two central London offices of Paul Hastings LLB (Global Law Firm) and PGIM (Global Asset Management).
"We totally enjoyed the four-day split between the two companies and were made extremely welcome. At Paul Hastings, the experience was very insightful because we were exposed to the range of jobs that fell under the umbrella term 'corporate law'. One of the most enjoyable things about the experience was learning about litigation, both civil, criminal and white collar crime. We had the chance to speak with barristers and partners, meet a variety of solicitors, shadow a lawyer for the day, and receive helpful advice from trainee solicitors. Surprisingly, many of the solicitors we met had not actually studied law at university and instead had chosen to study subjects they enjoyed and had degrees in subjects like Finance, Geography and History. We were given the opportunity to visit the Royal Courts of Justice, which was so interesting as every case that has ever taken place or would soon take place was written down in a list on display, as well as royal costumes worn in court from different periods of time. At PGIM we were lucky enough to meet different people from each group in the company, including analysts, lawyers and investors. All the people we met highlighted the importance of clear and good communication because it will be needed to deal with clients. We also learnt the huge importance of time management and organisation, as a lot of these roles are demanding and often unpredictable, and so require you to be able to manage all your work and meet deadlines.

This was a great experience that we really did enjoy and would recommend it to others if the opportunity arises. We learnt so much that we will be able to put to good use in the future. Thank you to all the staff at Paul Hastings and PGIM who gave us this opportunity!"