Preston Manor Reading Kings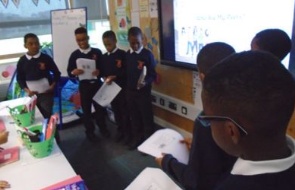 The Preston Manor Reading Kings (PMRKs) have enjoyed reading 'Thief' by Malorie Blackman. They had the opportunity to share and use their super communication skills to deliver a fantastic presentation on the book to Year 4.
The boys confidently discussed who they were, what the purpose of their group was, as well what they had learned from the story so far. They also introduced one of the main characters who faces negative peer pressure, to highlight the differences between positive and negative peer pressure. Finally they shared advice to their classmates on how to cope with negative pressure, as well how they could benefit from positive peer pressure. Well done to the PMRKs for a job well done!