Peer Mentoring Trip to the Science Museum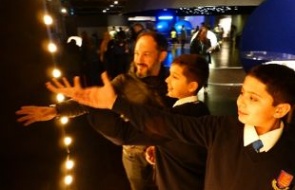 The Peer Mentor Bonding trip gave 26 Mentors and their mentees a chance to spend some quality time together out of school in a different environment, as well as supplementing their science knowledge! This experience gives the students a great foundation to start to build their mentoring relationships on.
The students benefited from two events at the Science museum. The first event was a science show about different types of Gasses, liquids, chemicals, many of which the students had never heard of. The second was 'Wonderlab' which had over 50 hands-on exhibits. The Gallery included live experiments at the Chemistry Bar, lightning demonstrations at the giant 'Tesla Coil', slides, and our brilliant Explainers to facilitate everyone's engagement. 'Wonderlab' encourages students to be curious, to look closely at details and to be creative, which are all skills that are invaluable to scientists.