Year 9 Music - Preston Manor Mercury Awards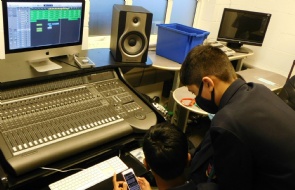 The Music Curriculum for Year 9 enables the students to form their own bands and write their own songs. The unit of work aims to provide the opportunity for students to develop ensemble skills, create their own music and explore the sounds they may have ownership of at home in the classroom. The best songs are assessed in the classroom, voted for by the students and then recorded with the help of a professional producer and sound engineer.
Yazan 9P, Zain 9P and Vagish's 9P song was voted best song and band by their classmates and won the opportunity to re-record their music in the Faculty of Performing Arts Project Studio!