Making the Best Choices at 16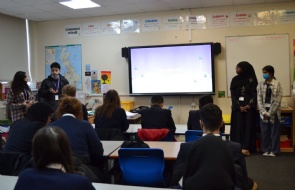 A team of well-trained and enthusiastic VI Form students have been playing a big role in supporting Year 11 in making important decisions about their futures!
Each Year 11 form group was assigned a mixed group of Year 12 and 13 students who presented to their younger peers on such issues as 'How to make the right subject choice for VI Form', 'How GCSEs can impact future opportunities at 16 and 18', 'Tips for doing well at GCSE' and ' What is Enrichment and why is it important in VI Form'.
Year 11 students were given plenty of opportunities to ask questions and our VI formers did a great job in describing their own experience of making the transition from Year 11 to VI Form and how they coped with the university application process.
The feedback from Year 11 students was overwhelmingly positive with 100% of respondents stating that they now know much more about how to make good choices at 16 and where to find further information and guidance. An impressive 90% of respondents stated that they now feel more interested in doing well at GCSE.
Well done to our VI Form Transition Mentors!