Sixth Form Student Offered Place at University of Oxford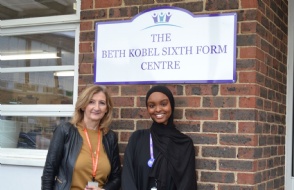 Our Year 13 student, Suleqa, has been offered a place to study Law at Trinity College, University of Oxford.
Suleqa, who is studying for A levels in Biology, Chemistry and Psychology is delighted with the offer. She has good reason to be pleased; there are on average about 1,850 applications for about 205 places. Of these, 39% are interviewed and 13% receive offers. Suleqa has beaten off the competition at all stages of the rigorous application process - a great achievement!
Suleqa won't be the only Preston Manor student at Oxford when she starts in September 2022. She'll be joining Preston Manor alumni Mariam El-Togby (Medicine), Pratik Shah (Economics and Management), Sameer Baig (Law) and Ibrahim Najmudin (Physics)
Suleqa has offered some great tips for anyone who wants to follow in her footsteps. "Never underestimate yourself, it doesn't mean you don't have to work hard, but believing in yourself is key. Make sure you explore your options; build a broad enrichment folder to help you find out what really interests you and showcase your interest through your super curricular enrichment."
'We are delighted for Suleqa, she is a great role model to other students and thoroughly deserves her success' commented Alison Wilding, VI form Lead Progression and Enrichment, who has mentored Suleqa throughout the process. She goes on to say 'Our Year 13 students have secured offers across a range of subject areas including Engineering, Politics, Psychology, Robotics and Speech Therapy at universities including UCL, QMUL, Bristol and Manchester. Despite all the obstacles put in our students' way during the pandemic, we are extremely proud of how they have kept going and maintained their high aspirations and excellent work ethic.'
We are extremely proud of Suleqa's achievement!