Sixth Form Students Meet Health and Social Care Professionals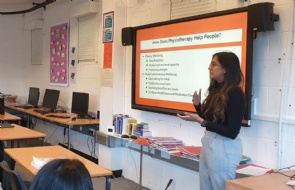 On Wednesday 23 February, students studying A-Level Health and Social Care in our Sixth Form were visited by Director of RD Physio (Clinical Physiotherapist) Monica Bhojani and Sport Massage Therapist Anjni Vekaria to speak to them about the roles and responsibilities of a physiotherapist.
Students were given an insight to the healthcare system and an array of professionals supported the speakers. They discussed how their experiences had affected them physically, intellectually, emotionally and socially. They spoke about how the health care professionals provided them support in these areas.

One individual who was diagnosed with bone cancer at the age of 10 which led to her leg being amputated explained how a range of professionals were involved in the synthesis of her prosthetic leg.

The guests faced daily challenges such as inability to carry out personal care, mental instability and facing discrimination. They explained how they tackled these barriers and never allowed it to limit them achieving their goals.
The speakers were an inspiration to our students, and they demonstrated that the battles and barriers did not stop to them to fulfil their dreams!