Autism Provision - COMPASS
Applicable to School Years 7 - 11 only
Manager of Compass: Ms. Hannah Johnson
Compass (Additionally Resourced Provision at PMS) provides an education for students with Autism and Asperger's Syndrome of mainstream ability who require highly specialised and individual arrangements in order to access a mainstream school.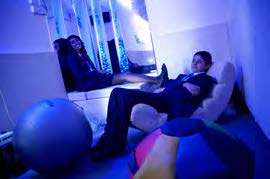 Students are taught curriculum subjects in a mainstream environment but additionally they have access to a specially designed low stimulus area set in a building separate from the main school. Students are expected to comply with the whole school Behaviour for Learning Policy.
At Compass, students take part in additional activities designed to meet their individual, complex need. Groups are run to foster social interaction skills, support life and organisational skills and develop emotional literacy. Students are offered 'sensory diet' sessions in order to reduce their anxiety level. Programmes and timetables are student-centred and highly differentiated.
Compass is a well resourced centre in a purpose-built building with access to cutting edge ICT equipment and a range of ASD-specific resources including a small sensory room.
Students have access to an interactive whiteboard and a variety of software designed to improve their social and communication skills.
For general enquiries please call the school between 8.30 am and 4pm, Mondays to Fridays
Telephone: 020 8385 4040 ext 216