Behaviour Principles
At Preston Manor we expect all students to behave well. The Education and Inspections Act 2006 includes a specific responsibility to discipline students for teachers and other staff with pastoral responsibilities for students. This applies to breaking school expectations, failure to follow instructions or other unacceptable behaviour. It applies at any time a student is in school or elsewhere under the charge of a staff member, including where a student is participating in a school visit. This responsibility also applies for misbehaviour outside the school gate or when students are off school premises and not under the control of the school staff and also relates to any bullying incidents occurring anywhere off the school premises.

Behaviour Principles
Students are ambitious and excel in all they do, they are free to learn in a stimulating, inclusive and rewarding climate.
Student behaviour in and outside of the classroom has a positive impact on themselves, their peers' learning and well-being.
Students take responsibility for their safety and the safety of the whole school community. They take responsibility for and reflect upon their actions, making a positive contribution to the school and our wider community.
Staff use sanctions fairly and appropriately to encourage students to take responsibility for and reflect upon their actions, helping to remove barriers to their social and academic development and developing their restorative approach to conflict.
Staff consistently reward students who show ambition, strive for excellence and take responsibility for their learning and personal development.
Families are involved in resolving behaviour incidents to foster positive relationships between the school and students' home life.
The behaviour policy is understood by students and staff and is consistently applied without discrimination. It is the shared responsibility of the whole community to adhere to the behaviour principles at all times.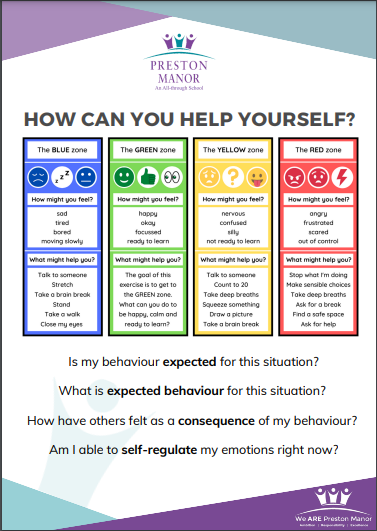 Zones of Regulation
At Preston Manor School, we use the Zones of Regulation throughout the whole school. The Zones of Regulation is a framework based on cognitive behaviour therapy.
We use the Zones framework to help students to:
reflect on their behaviour,
develop self-regulation skills
provide them with coping strategies
Zones of Regulation uses four zones to allow your child to identify your emotions and aims to teach them self-help strategies.
All Preston Manor staff use the Zones of Regulation language when unpicking unexpected behaviour and we have attached a helpful guide below with some more in-depth information and answers to some of the frequently asked questions.
To read our Parent Friendly Guide to the Zones of Regulation please CLICK HERE.
To read our Behaviour Policy please CLICK HERE
To read our Vision and Values please CLICK HERE