Our Vision & Values
We are a thriving All-Through school in Brent, and it is our aim to be an excellent and memorable school. We have the highest aspirations for all children, students and staff who are able to enjoy learning in a safe and inclusive environment.
We understand how important it is to work together as a community to help students enjoy their learning and achieve their best in all aspects of school life.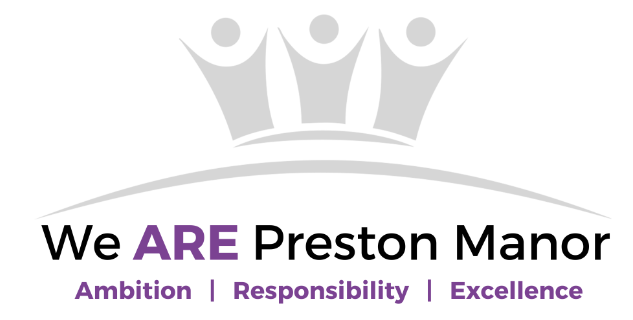 Ambition
We are ambitious for all of our students. Our ambition is driven through raising aspirations, our broad and balanced curriculum and the opportunities that are provided beyond the classroom. We want Preston Manor students to be active citizens, to be prepared for their future, to be happy, healthy and safe and caring individuals who are responsible learners. Students' ambition and equality of opportunity enable them to achieve excellence. We achieve this through our PSHE, Citizenship, UCAS and careers programme which underpins our curriculum and high quality teaching and learning.

Responsibility
Students are encouraged to lead in their own learning and commit fully to their studies. All of our students have the responsibility to develop their own leadership skills from joining in Reception to the end of their learning at school. We want our pupils to realise their dreams through a positive contribution to their community and wider society. We all have the responsibility to remove the barriers to each individual's development and create the conditions in which our young people are able to love and enjoy learning inclusively. We achieve this through our student leadership, DIVA, Sporting, Artistic and Cultural opportunities embedding responsibility before rights - Munus Prae Jure.

Excellence
Driving our ambition and developing responsibility ensures that each individual achieves personal excellence at the end of every key stage. Our students leave their learning journey at our school with excellent values, virtue, integrity and high academic and personal outcomes. We are making school memorable by striving for excellence. We 'ARE' Preston Manor School.